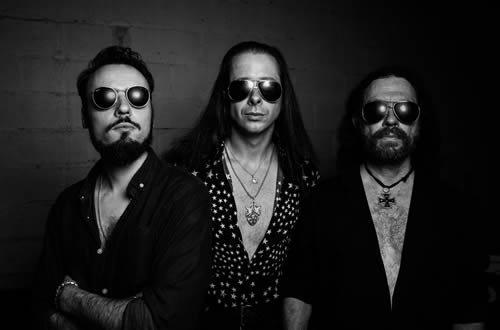 MERCREDI 6.12
Lieu : METRONUM | 20H00 - 23H45
TICKET > 25/30 € (ou PASS)
Formerly from Toulouse (southern France), SOROR DOLOROSA was originally founded in 2001, with Andy (Nuit Noire, Mutiilation, Peste Noire, Celestia, Darvulia, Fornication) on drums, Franck (ex Funeraell) on guitar, Herve (ex Funeraell) on bass, and Christophe Guenot (ex Funeraell) on vocals.
Herve came up with the name of SOROR DOLOROSA because of a novel titled "Bruges-la-morte" by Georges Rodenbach, a Flemish symbolist writer from the late 19th century. A novel marked by symbolism of nostalgia and mourning. SOROR DOLOROSA means "Sister Pain" in Latin, one could almost translate it as "lovers of pain" in a more Baudelaire way.
So, that's how Soror Dolorosa appear today, which is quite a feat, knowing their respective influences. Andy, as a drummer, has been marked by Black Metal and Metal in general but also by the likes of Human League, Fields of the Nephilim or Ulver's latest albums. Herve is a big fan of The Cure, Depeche Mode and Christian Death. Emey is somewhat influenced by Metallica, Satriani, Vai, but also Blues & Movie Soundtracks. Franck listens to bands as diverse as Iron Maiden, Bon Jovi or The French Variety, as well as Reggae, although he is primarily a Beatles fan. However, since the basics for their songs often come from bass riffs, the colour of the music naturally goes into the direction of Gothic/Death Rock and Cold Wave.